Bio link for

your podcast

that brings in listeners
Start getting listeners from social media without frustration. Find out which social media profiles work for your podcast. Never worry "is social media is working for my podcast" again.
You can also add any link you want, find out which links get clicks, grow your email list, and get more donations - all from your bio link.
Free plan included. No credit card required.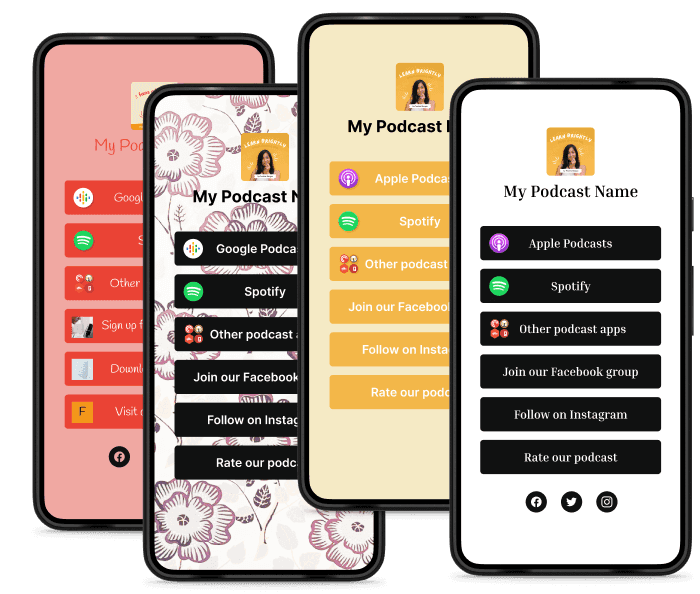 70% of your listeners can't find your podcast
If you only share Apple Podcasts or Spotify links on social media, you're leaving out the other 70% of listeners who use other apps. But listing every podcast player isn't the answer either. There are more than 10 top podcast apps, and if you display all the podcast links at once, your listeners will get overwhelmed and leave without listening to your podcast.
Instead, let PodBio take care of your podcast links. PodBio will automatically display the podcast apps that are available on your listener's device and preferences.
All podcast apps are supported

Not sure if you're on a specific podcast app? Don't worry. Let your listeners listen to you no matter what app they use. PodBio also includes instructions on how to add your podcast to any app.

Show the right app every time

Not every app is available on both iOS and Android. PodBio automatically displays only the apps that are supported by their device. Don't worry about sending your listeners to unsupported apps.

Your listener's favorite app is always at the top

Your listener's favorite app is saved on their device the first time they use PodBio. Now, every time they visit any PodBio link, their favorite app will appear at the top for easy access. This setting applies to all PodBio links, so accessing your podcast is one step easier.
Add any link you want
You have space for one link in your profile. Make it count. As a podcaster, you'll also want to showcase your email list, your business, or your coaching program.
PodBio lets you add any link you want, so your followers can quickly access all your links.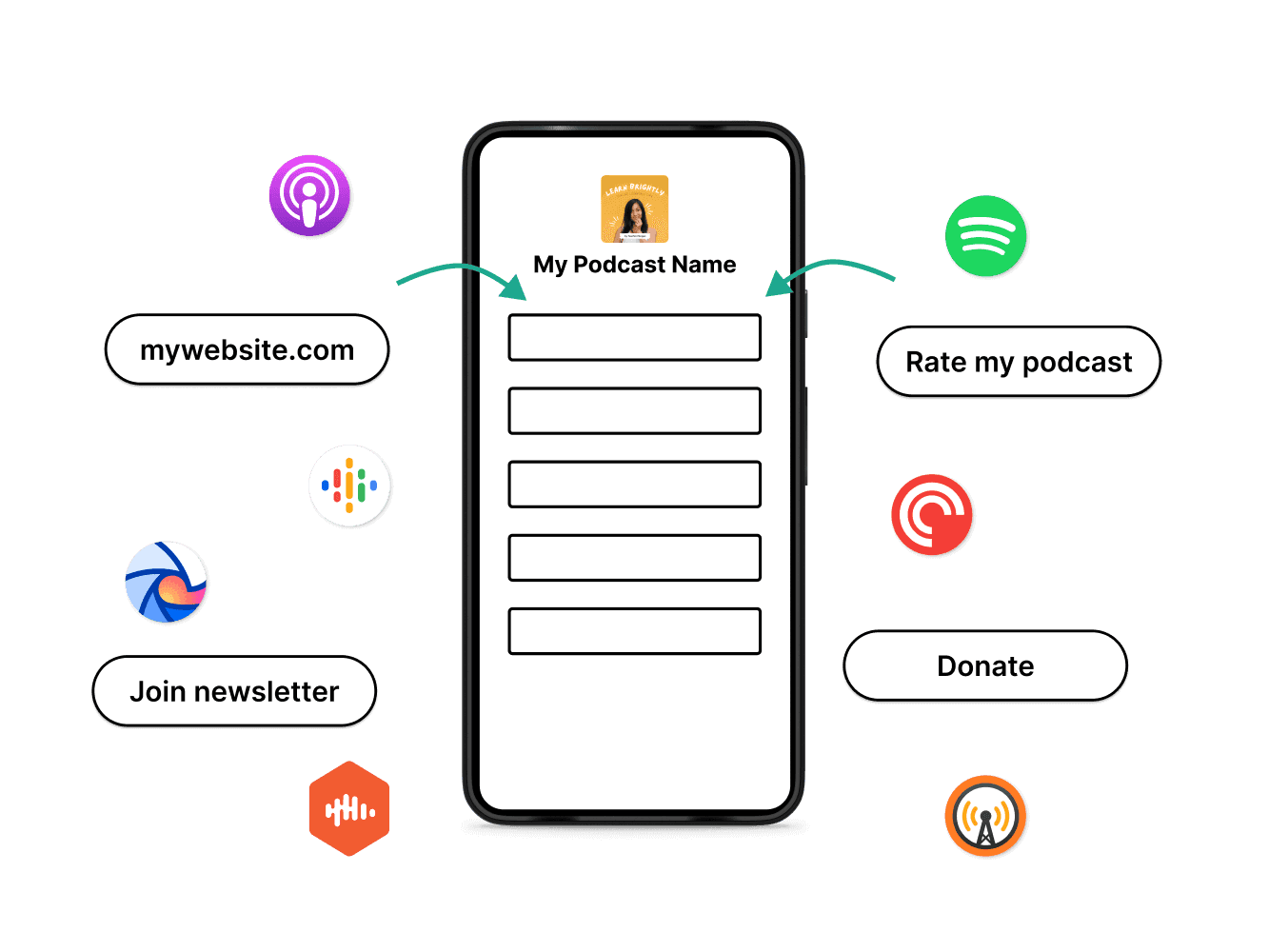 Know what works for your podcast
Unsure which social media platforms are right for you? Are you wondering if sharing on social media is working?
With PodBio's easy-to-understand analytics, you'll know what works for your podcast. You'll know exactly where your listeners are coming from and if your social media promotion is working.
Know where your followers are coming from

You can see which platforms are working for you and where your listeners are coming from.

Get weekly analytics by email. No need to log in.

Worried you'll forget to check your analytics? With PodBio you'll get weekly analytics for your link, so you'll know what's working and what you need to improve without wasting time.
No two podcasts are the same. Why should your bio links be the same?
Make your PodBio your own by choosing a theme for your podcast. You can easily choose a theme by clicking on the one you want.
Choose a theme by simply clicking on the one you want. And you can also change your theme at any time. Moreover, you can update the theme to include your brand colors and make it look exactly the way you want.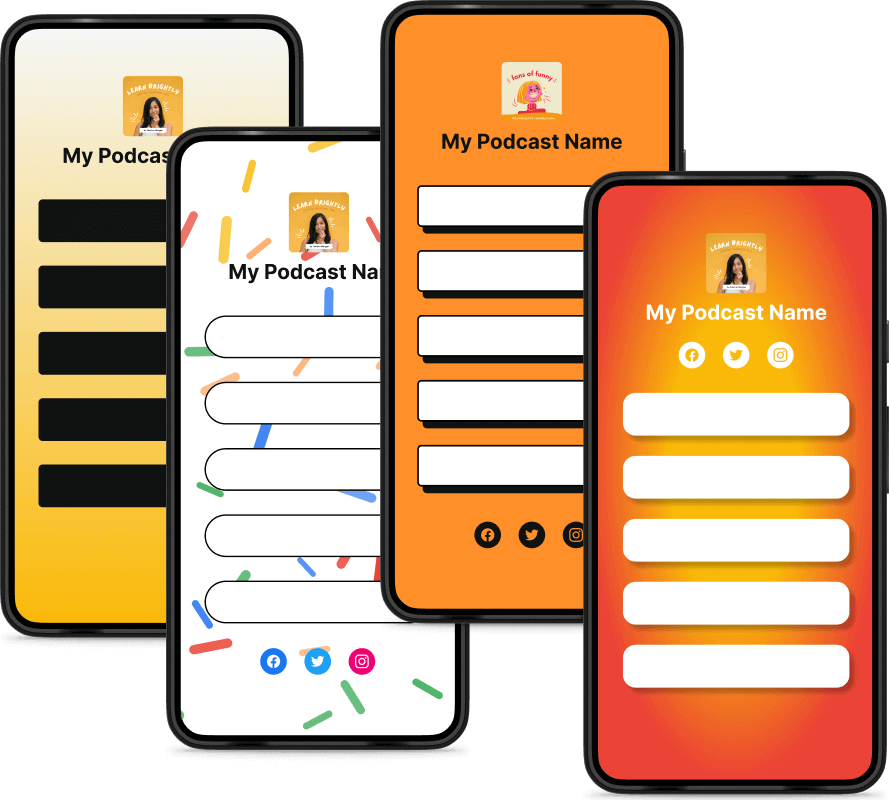 Get help when you need it
Technology can be frustrating at times. Instead of spending all day researching how to use a product or troubleshooting why something does not work the way you want it to, you can just send a quick email to get answers from real people.
You'll also get access to PodBio's knowledge base of step-by-step videos to help you setup your social media bio link the way you want.
Ready to make social media work for your podcast?